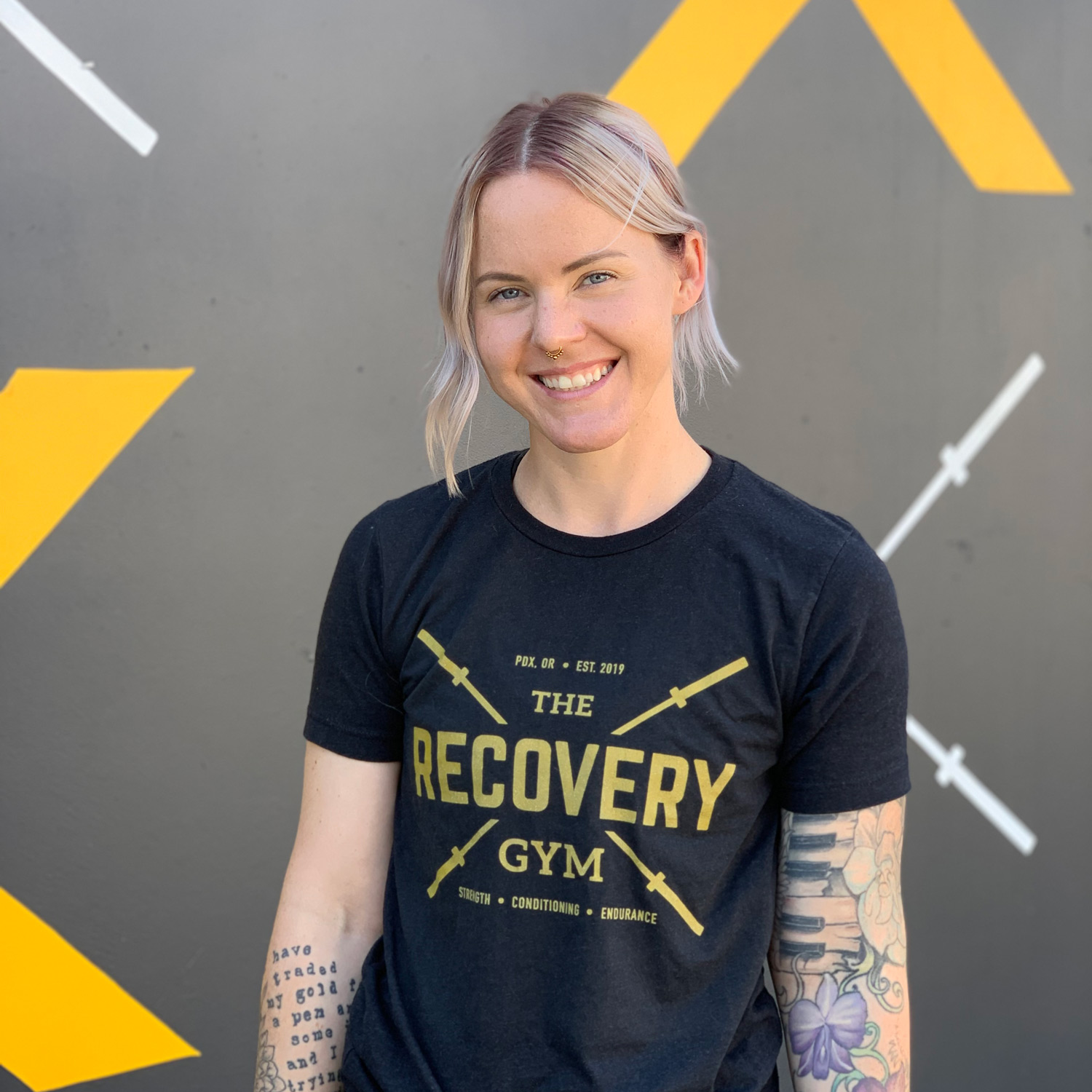 Shiloe Allison Aurand
Director / Co-Founder
CrossFit L2 / USAW1
Shiloe began her CrossFit career the moment she walked into her first CrossFit gym. Not because the gym itself was special, but the capacity that CrossFit had to cultivate and foster community. Just a few short months after practicing CrossFit, Shiloe registered for the CrossFit L1 seminar being hosted at CrossFit X-Factor in July 2017. After connecting with the owner of X-Factor, Chris McDonald at the seminar, it was an easy decision to switch to X-Factor from her current gym. The focus on excellence in coaching and in performance was exactly the culture Shiloe was seeking for her own development.
A few months into an internship and employment with CrossFit X-Factor, Chris was approached by Alano Club of Portland with an opportunity to partner on what is now The Recovery Gym. Having remembered a conversation with Shiloe about her desire to work with the Recovery community via health and fitness, he brought the opportunity to Shiloe. It was a perfect fit.
Shiloe grew up in a family where addiction was a common theme. She identifies as a person in long term recovery. Shiloe engaged in therapy and groups as part of recovery, but it was always a physical discipline that provided the most healing for her.
The timing of when Recovery CrossFit came into Shiloe's life couldn't have been more meaningful. Given the autonomy to build out the program from the ground floor up, it's become her main focus and passion. She believes and understands at her core that the enharant fellowship and community that comes with CrossFit is what makes it so powerful as a recovery pathway.
Shiloe is a CrossFit Level 2 Trainer. She will be going for CrossFit Level 3. She's passionate about preserving the integrity of coaching, and that athletes learn and gain knowledge in a safe and fun environment. She runs a tight ship, but in a way that is fun and inspiring for all.
---
Emily Fox
CrossFit L2 / NASM Nutrition / CRM
Emily Fox was born in Walla Walla, Wa and was raised in a tiny town you have never heard of called Waitsburg. It's a wheat farming town east of Walla Walla. Her dad is an attorney who still runs the family law practice her grandfather started when her dad was a baby. Her mother was an immigrant from Jalisco Mexico who passed away when she was young. Emily and her two younger brothers liked to play sports, ski and snowboard, as well as do 4-H where Emily excelled in showing horses and doing rodeo. Emily was on the mountain skiing since the age of 3 and was a full-time snowboard instructor by age of 16. She spent a big part of her childhood on a cattle ranch right on the Touchet river with her two little brothers, always outside running a muck!
Emily moved to Portland in 2011 and very quickly found herself calling this home. She loves animals and has worked in veterinary hospitals as a technician for nearly 10 years. Emily is a mom of 3 with a 19-year-old daughter who lives in Idaho, her 15-year-old son and 11-year-old daughter live at home with her and their 1-year-old American Bulldog Lola. She stays steady on her CrossFit workouts and has found a love of weightlifting and can be seen hitting the weight pile about 5 days a week! Emily is also an avid bicyclist and rides a sick Cannondale. Since living in Portland, she has been a bicycle fanatic and depended on her bicycle as her main transportation commuting up to 25 miles a day for work! Really, don't even get her going on bicycles, she is somewhat obsessed. Emily has a knack for comedy and has even done stand-up. She is a writer and a poet and has done song writing for musicians. Emily also loves to do volunteer work and is often seeking out ways to give back to the community.
Emily will be the first person to express the benefits to her life through CrossFit. Struggling with substance abuse and alcoholism since her teenage years finding a way to maintain sobriety and a life of recovery was not easy. She has found her pathway in recovery and life through CrossFit. Emily has been committed to Recovery CrossFit classes since day 1 back in September 2018. Knowing the amazing opportunity being presented to people like her in recovery through the free classes and knew it was exactly what she needed. The amount of strength gained by doing the workouts has been far more than just a physical change. Emily takes on life and her recovery with new found strength and determination on the daily. Emily is so excited for The Recovery Gym and the future for herself and everyone else who will be impacted by the benefits of CrossFit in their recovery and in life. For Emily, CrossFit is her recovery. She has a new love for health and wellness and with this passion she is now looking forward to a career doing exactly what she had hoped and dreamed of, working with people in recovery with a focus on health and fitness. Emily has found it to be a true honor to be a part of The Recovery Gym and The Alano club family. Emily looks forward to seeing you in a class soon!
---
Angela Porras
Outreach & Education Community Coordinator
CrossFit L1 / CrossFit Kids / USAW1
In 2011 Angela was introduced to CrossFit; reflecting on it now, she realizes that CrossFit was her means of recovery, lifting her out of a period of depression exacerbated by alcohol, and it became her outlet from the magnitude of being a middle school teacher. Weightlifting and CrossFit became a staple in her lifestyle, and in 2013 Angela received her USA Weightlifting coaching certification.
When seeking alternative pathways to recovery, Angela found The Recovery Gym. She is adamant that this program was made for her. It has renewed her accountability in recovery, and in connecting back to self. It's key in my spiritual practice, in being present.
Angela knows this program is invaluable, made for her, made for everyone, and ultimately decided helping The Recovery Gym's mission was a shift she wanted to make. After 14 years as a middle school teacher, Angela transitioned out of public school education, and into the role of Community, and Education Coordinator for The Recovery Gym, and became CrossFit Level 1, and CrossFit Kids trainer. She endeavors to build community partnerships, sharing TRG's mission with the metro Portland area, alongside being a CrossFit Teens coach for youth in recovery at Harmony Academy, Oregon's first high school dedicated to helping students recovering from substance use disorders.
---
Connor was born in Portland and moved to Medford when he was 5. Connor is the oldest and has one brother and one sister. Connor has a son named Jackson who is 11 years old.  His dad is a golf course superintendent and his mom stayed home to take care of the kids and later got a job in banking. For the most part growing up, life at home was pretty good with his family.  
As a kid Connor was super into soccer and snowboarding growing up and was on the high school soccer and snowboard teams. His parents took him all over the northwest to play soccer. During the summer breaks from school Connor often worked with his dad and brother on the golf course. He worked as a ski lift operator for 3 seasons at Mt. Ashland. Connor's family loves going camping and riding mountain bikes and he was always super into music and was a rave kid for many years.  
It was around age 16 when Connor started to try different drugs and what started out as fun times to party turned into a 16 year battle of drug addiction. After many years of struggle and hardship due to his addiction, Connor came to Portland to find a fresh restart. Connor went to Depaul Inpatient Treatment for 4 months and then went to the Blanchett House after that for 3 months before being accepted into the Mentor Program through CCC.  
As soon as Connor was finished with inpatient treatment the pandemic started. He had been to one class at The Recovery Gym while at Depaul and was grateful to find the classes were still being offered on Zoom despite the gyms being closed down. Staying dedicated to the Zoom classes he was there every day he could when the gym opened back up. Connor has found his main pathway in recovery through The Recovery Gym and physical fitness.  
Connor just finished his internship with The Recovery Gym and obtained his CrossFit Level 1 certification.
---
"I feel such gratitude for life. Finding a physical discipline in my recovery has allowed for the mental, spiritual, emotional parts of me to come alive as never before!"